Post by Shock on Jun 29, 2008 22:48:07 GMT -5
Name: Vincent Valentine
Age: Well...he's twenty seven, but he's permanently twenty seven. Actually he's like fifty something.
Gender: -.- He's a guy.
Roleplay: Final Fantasy VII, open
Discription: Dark unkempt hair, pale skin, red eyes, he wears a gauntlet on one hand and a tattered red cloak. Under the cloak he wears all black. The cloak has several buckles, and covers the bottom half of Vincent's face. Eh, just look at the pictures. -.-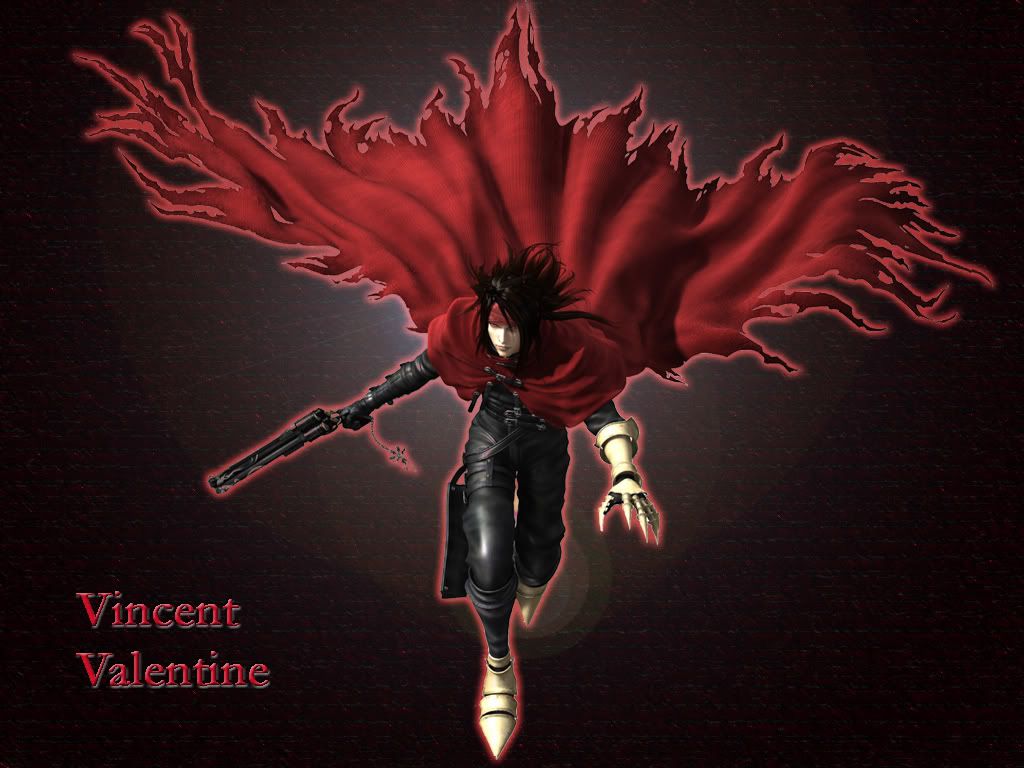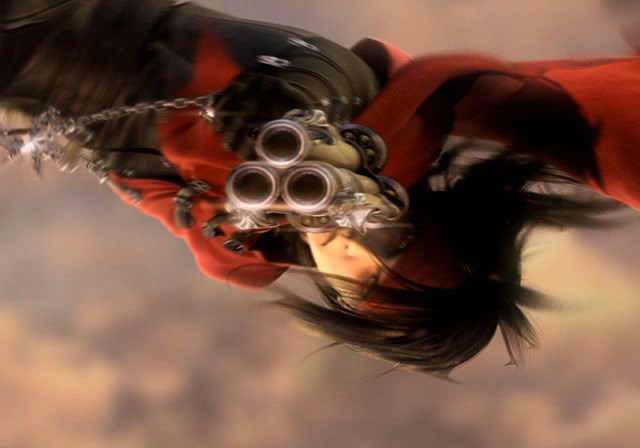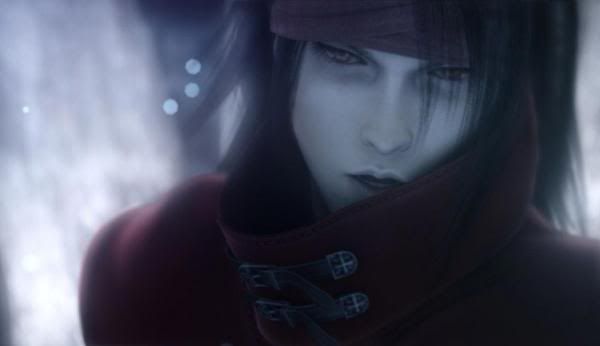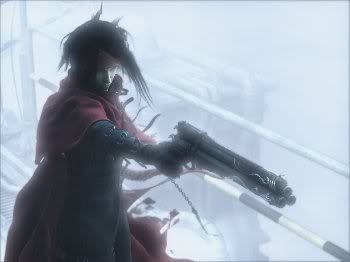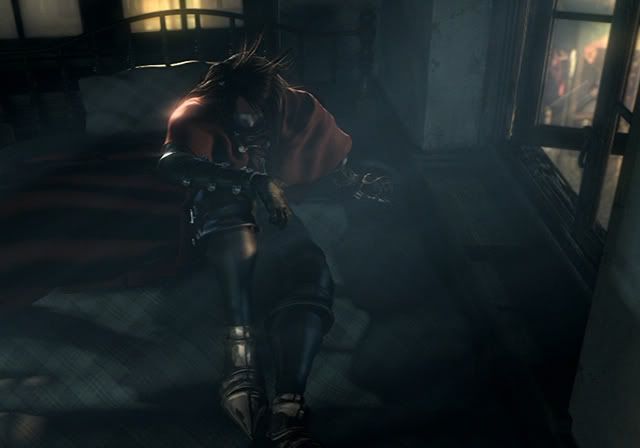 The true sign I stalk my fandoms, when I have a picture of one in his bedroom. XD
And now when he was with the Turks!

And Chaos!Vincent.
Viiiiiiinceeeeeeent... *drool*
Personallity: Distant and moody describes his personality most of the time. Sometimes he has some really sweet, adorable, make-you-wanna-say-aww moments, and sometimes he can be a real smartass. He can be sarcastic at times, and he's an excellent gunman. And he blames himself for stuff. Alot. As in, he thinks everything bad in the world linked to Sephiroth or his biological mother Lucrecia is all his fault.
History: Oh wow. This is going to take a while. Get a bowl of popcorn and prepare for the soap-opera-like drama that is Vincent Valentine's life. It will be copy and pasted from the Final Fantasy Wiki.
Vincent was once a member of the Turks, then known as the Shin-Ra Manufacturing Department of "Administrative Research." When he was assigned to supervise the Jenova Project in Nibelheim, he fell in love with a scientist named Lucrecia Crescent, an assistant to Professor Gast. When he discovered her link to his deceased father, she fled from Vincent, ultimately entering a relationship with her associate Hojo instead. Lucrecia became pregnant afterwards, most likely in order to provide a test subject for their next experiment: an investigation into the effect of Jenova cells on an unborn child.
Vincent's father, Grimoire Valentine, was an associate of Lucrecia on the Chaos project, and after Grimoire's death by a failed experiment, Shin-Ra sent the Turk Vincent as a bodyguard for Lucrecia, a detail revealed in Dirge of Cerberus.
Vincent objected to the use of humans--especially Lucrecia--as live test subjects. Even so, in the interest of science, Lucrecia proceeded with the treatment and apparently became very sick as a result. Outraged, Vincent confronted Hojo in the Shin-Ra Mansion's underground laboratory and a heated argument ensued. Hojo ended it with treachery, pulling a gun from his lab coat and shooting Vincent in the stomach. He proceeded to use his unconscious (or possibly dead) body as the subject for experiments involving metamorphosis, enabling the body to tranform into Galian Beast, Death Gigas, and Hell Masker. Vincent awakened on the operating table - Hojo nowhere in sight - and responded to his modified body with both anguish and rage.
Believing himself responsible for Lucrecia's illness after Sephiroth's birth, he locks himself inside a coffin in the basement of Nibelheim's Shin-Ra Mansion, where he slept mostly undisturbed for 28 years to atone for his "sins." He constantly relived his "nightmare" for these years as a punishment for his inability to stop Lucrecia from submitting to Hojo's experiment on her unborn baby.
Verdot, an old friend of Vincent, awakens him inside his coffin, and tells him that he is searching for materia. When he wakes up, he helps the Turks fight AVALANCHE, and displays sharp shooting skills with a beautiful gun, though he is rather jaded after that long sleep. It would turn out that the Support Materia for Zirconaide was hidden inside the mansion and he knew of its existence. He gives it to Verdot before he rests once more.
When Zack Fair hears snoring coming from a coffin, he opens it and is startled that a person is actually inside it (due to the camera angle, Vincent is not actually seen). As he steps back, the coffin lid floats over the coffin, and seals itself.
During the timeframe of the main game, Vincent is discovered by Cloud and the party in a locked room in the basement of Shin-Ra Manor in Nibelheim. After some careful coaxing, he is talked out of his sleep and joins Cloud's party against Sephiroth, which he considers a side-effect of his sin. Very little of his story is revealed in the game, only being briefly looked upon during his introduction, and in a scene when they find Lucrecia sealed away in a crystal cave.
As Vincent is an optional character in the game, along with Yuffie, he is not shown in the ending FMV. "Dirge of Cerberus" retcons that the two of them returned to Midgar early to help evacuate the city before Meteor hit, saving the lives of hundreds, including a heavily-injured Rufus Shinra. However, they can still be used in Final Fantasy VII to fight in the Northern Crater.
In Nibelheim, get the Mansion Key from the safe upstairs in the Shin-Ra Mansion. The combination is RIGHT TO 36, LEFT TO 10, RIGHT TO 59, RIGHT TO 97. Following this is a tough boss called Lost Number. If you use magic on it when it is in its physical attacking form and physical attacks when it is in its magical attacking form, you should be able to defeat it. It cannot be harmed by Gravity spells. Pick up the key from the safe after the battle and enter the locked cellar halfway to Sephiroth's Library in the basement. Enter the cellar using the gold key from the safe. Touch the foot of the purple coffin. The lid will fly off and Vincent will talk to you. Choose the bottom reply when he asks you a question. When the coffin closes, touch the coffin again. Choose the second (bottom) reply when Vincent poses another question, and you can name him. Leave the cavern and he'll join you.
During the years following Final Fantasy VII, Vincent traveled the world, mysteriously popping in and out, retrieving information and helping those in need, keeping even looser connection with his friends than the rest of the party (possibly due to his lack of a phone). After Tseng and Elena were struck down and tortured by Kadaj, Loz, and Yazoo at the Great Northern Crater, Vincent rescues them and helps them recover, while getting as much information about the trio as he could.
When Kadaj began to fight Cloud in the Forgotten City, Vincent rushed in as a red vapor resembling his ripped cape, firing at Kadaj while picking up Cloud and carrying him to safety. Resting in a remote part of the forest, Vincent relayed information about the Geostigma to Cloud, before they both leave for Edge.
Vincent shows up with the rest of AVALANCHE for the battle against Bahamut SIN, inquiring as to where he could buy a cell phone (a joke in the film, he apparently being the only member of AVALANCHE without one). He tells the party the truth about Kadaj aboard the Shera, while Cloud duels him atop the remains of the Shin-Ra Building.
During the bonus feature 'Reminiscence of Final Fantasy VII,' Vincent makes a call to Cloud. At some point after Advent Children, Vincent purchased a cell phone, and made a point to relay a message to Yuffie that she had no right to call it.
A year following the events of Advent Children, Vincent is called into duty once again. When the mysterious group Deepground began attacking people around the world, Vincent Valentine and the World Regenesis Organization started investigating. Deepground, they found, was a group based from secret experiments underground in the Shin-Ra Building that were trying to awaken the final WEAPON, Omega. To do this, they were hunting down Vincent Valentine, who housed the powerful Protomateria and the spirit Chaos. Vincent was forced to fight off the constant attacks while trying to solve the mystery of his own dark past. Eventually, he discovers who he is with the help of a young Tsviet (Deepground Elite), named Shelke.
Deepground is able to steal the protomateria straight from Vincent's body, and Chaos becomes increasingly unstable within Vincent throughout the game. At the end, Chaos is finally completely unleashed and defeats Deepground and Omega. When he concludes his mission, he disappears within the crystal cave where Lucrecia lay for some good time. Cloud's party eventually sends a befriended Shelke to retrieve Vincent, who had made his amends and forgiven himself for his "sin."
Dirge of Cerberus -Final Fantasy VII- reveals that when Vincent confronted Hojo he was shot, and turned into a sample for Hojo's metamorphosis experiment. The experiment left Vincent with three demonic transformations, however he was left in a death-like state. Upon discovering this, Lucrecia took his body and attempted to save him by implanting the Chaos gene within him. While Vincent was revived by this process, he became Chaos itself and had no control over the form. The Protomateria then appeared and Lucrecia used the materia to suppress Chaos and allow Vincent to have some control over the transformation. In a flashback, Vincent wakes up on a table in a lab, and looks down to find himself in his Galian Beast form (the claws Vincent sees are those of Galian Beast.)
It is ambiguous precisely what happened between Vincent's awakening in the laboratory and the beginning of his extended slumber. In a note written by Hojo - the first clue provided for uncovering Vincent - he claims to have put Vincent to sleep in the basement himself. While there was originally much conjecture as to whether Vincent's sleep was fully voluntary versus induced because of his own attitude toward it and the mystery of his in-game attire and long hair, a flashback scene in Dirge of Cerberus clearly illustrates Vincent was experimented on and then immediately put to sleep in his current appearance. Assumedly, as hair continues to grow even after death, enough time passed during the experimentation for Vincent to assume the appearance he later maintains. However, this does not explain his change of clothing.
*End of copy and paste*
>.> <.< Fangirls could explain the change of clothing... just kidding. Anyways, hope you enjoyed the drama.
Likes: Lucrecia, I suppose the friends he made in FFVII, you know, Cloud and the gang, his gun, 'atoning for his sin'.
Dislikes: HOJO, people getting in his way apparently. There's this one guy in the WRO in Dirge that asks if he can come with you and the little group you've gathered, and Vince said as long as he didn't get in his way.
Faults: Moody and thinks everything is his fault is DEFINITELY a fault.
Strengths: Shooting! ;D
Theme song: REDEMPTION by Gackt((Theme song of Dirge, apparently, according to a fansite I looked the lyrics up on, the capitalization is important.))
Friends/ Enemies:
Friends: Cloud, Aerith, Tifa, Yuffie, Barret, Reeve, Cid, Shelk, Shalua, Lucrecia, eh...I think that's it...
Enemies: HOJO, Sephiroth((Mainly Hojo though)), Deepground
Anything else: As moody as he is and as much as he beats himself up, you gotta love him! Another theme is LONGING, also by Gackt.